Real Friends


Nach der Veröffentlichung des aktuellen Albums "Composure" in 2018 und mehrmaligen Teilnahmen an der Vans Warped Tour, sind die Real Friends am 28.10.2019 zu Gast im HeadCrash in Hamburg.
Nach ihrem Debütalbum "Maybe This Place is the Same and We're Just Changing" von 2014 und "The Home Inside Your Head" von 2016 haben Real Friends in 2018 endlich ihr von Fans und Kritikern langersehntes drittes Album "Composure" veröffentlicht. Und dafür hat das Quintett um Dan Lambton (Vocals), Dave Know (Gitarre), Eric Haines (Gitarre), Kyle Fasel (Bass) und Brian Blake (Drums) wirklich alles gegeben. Songs zum Mitsingen und Tanzen, Songs die unter die Haut gehen, emotional sind und einfach vom ersten bis zum letzten Song mitreißen. Man könnte sagen, "Composure" ist der perfekte Mix aus Pop und Punk, den die Real Friends da abgeliefert haben.
Natürlich wird es da Zeit, dass die Chicagoer Jungs ihre deutschen Fans nun auch live von ihrem Können überzeugen können. Dass die Songs und die Sympathie der Band auch auf der Bühne jeden begeistern werden, steht außer Frage, aber wie sehr man dann doch wirklich mitgerissen wird, lässt sich schwer in Worte fassen.
Mehr lesen
Schliessen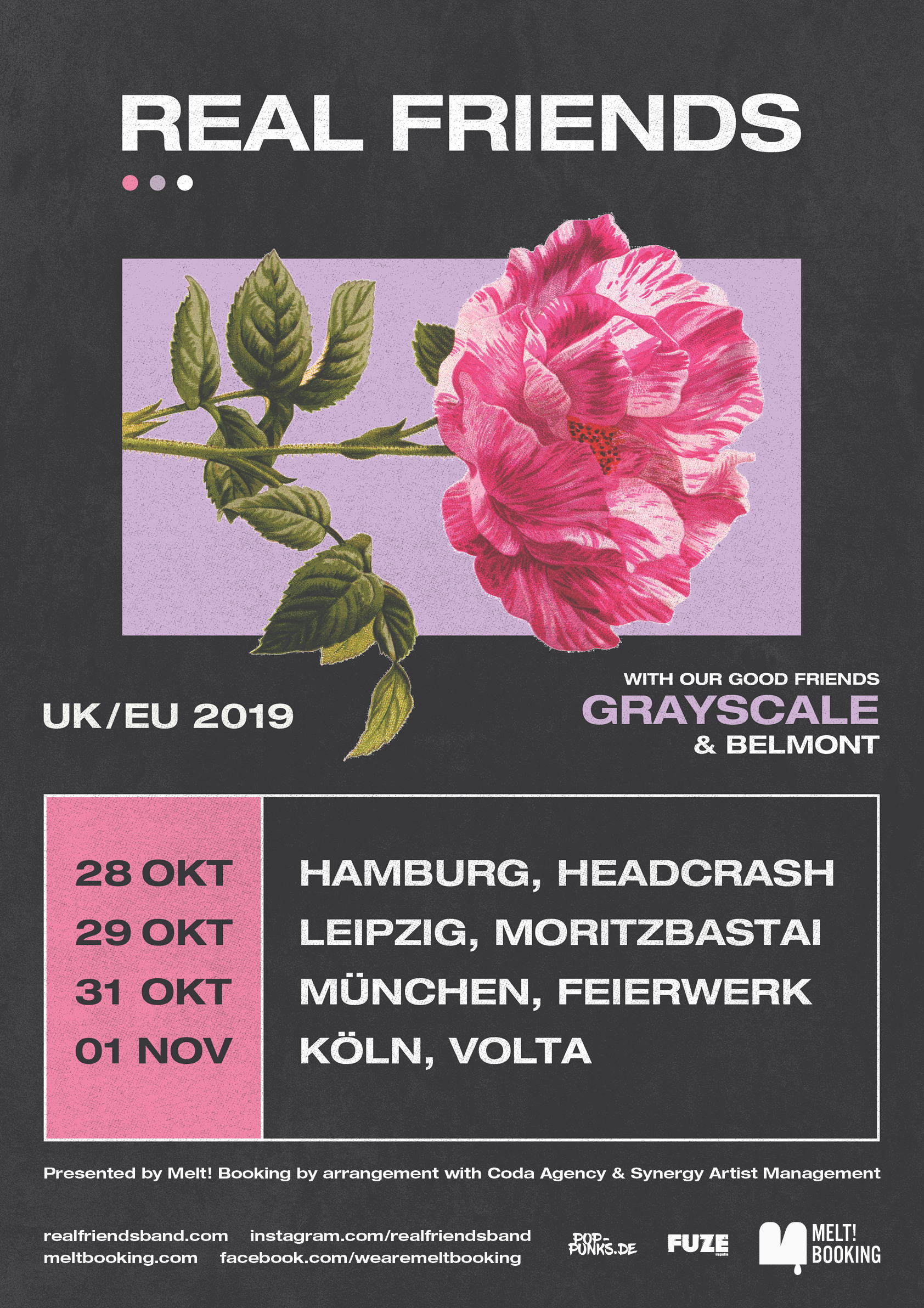 Real Friends
OFFIZIELLE WEBSITE